Rønningen is a boarding school in the Nordic Folk High School tradition.
---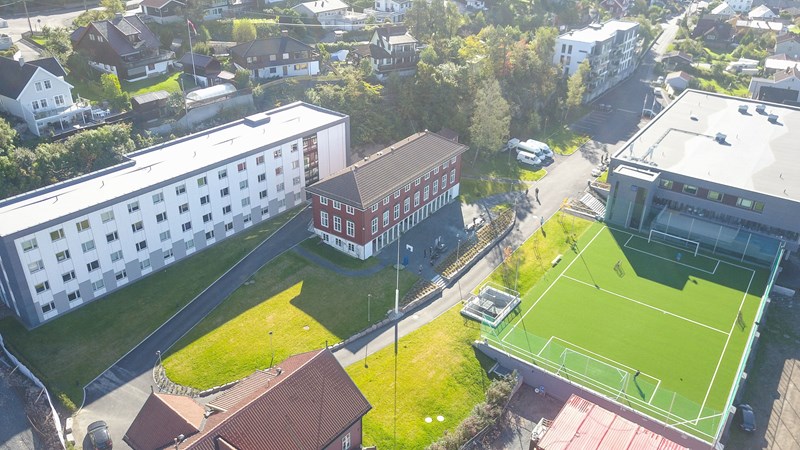 ---
The school can accommodate up to 190 students in the boarding houses. Students come from all over Norway and many other parts of the world, creating a unique multi-cultural environment. The school year is 33 weeks and runs from August to May.
---
The story of Rønningen folkehøgskole
Rønningen folkehøgskole was founded in 1969, and is owned and run by the Norwegian YWCA/YMCA. Located on a hillside, the school has a fine view of Oslo and the Oslo fjord. Although Rønningen is only a 25 minute journey from the city centre, it is surrounded by beautiful nature. Every August, the school welcomes 190 students from all over Norway and all over the world. The students leave having gained new skills and insight, and not to mention, friends for life. Rønningen is a Christian school. We welcome students, irrespective of ideology or faith, but all must be willing to participate in the social life of the school.
A folk high school is different from other kinds of schools. It is a meeting place for young people, where personal growth and responsibility is an important part of the curriculum. 
At a folk high school, both theoretical and practical knowledge is gained through a variety of teaching methods. Living and working close together creates a strong social environment amongst the students, but can also lead to conflicts. However, learning to overcome such difficulties is seen as an important part of the folk high school education. A folk high school provides not only academic training, but also develops social skills preparing students for the challenges that lie ahead.
---
"This is Rønningen folkhøgskole"
 
(It is possible to turn on English subtitles in the video)
---
The courses
The folk high schools do not grant degrees or conduct exams. By law, folk high schools will not conduct any formal examinations and do not issue degrees. After finishing your school year, you will receive a diploma detailing what you have participated in. Although receiving financial support from the state, the folk high schools are independent from the regular educational system in Norway.
International students who wish to continue to study in Norway will not qualify for enrolment as students in a Norwegian college or university. They must meet the same entry requirements as other international students.
In Rønningen there are a range of classes/"linje". All students pick one of these "linje" and spend 16 hours a week on their selected course. When an international student applies, they should pick Norwegian Language and Culture as their first choise and then another "linje" as a second choice.
Furthermore, the course Body-Mind-Spirit is compulsory for all the students and aims towards raising  general awareness and inspire personal reflection and interesting discussions amongst the students.
There is also a selection of elective courses.
The Norwegian course
The Norwegian course is taught throughout the year, but has an intensive period at the beginning of the school year. There  will be an opportunity to attend about 300 hours of Norwegian classes. The students' progression will depend hugely on their previous language skills, their background and most of all, the effort they  put into learning Norwegian. The best way to learn the language is to get fully integrated in school life and start trying to use the language in everyday life from the beginning. 
The students will develop their language skills from a beginner's level to a conversational level. How the group will be organized and how the total amount of hours of language training will be spent will be fixed when the group of international students is set at school start.
Depending on the pupil's background, the school uses the textbook På vei (Ellingsen & Mac Donald, 2018). Throughout the course we will use a variety of teaching methods based on the students's background and level, always firmly based on research in second language learning: From traditional grammar exercises to practical use of the language in the Norwegian society. We actively use the school's everyday life as a platform for language learning. The school will organize a study trip to Vestlandet and Bergen. There will be some homework in connection with the course, and tests will be run, but there will be no final exam.
You cannot assume to pass the Bergen test after one year in Rønningen.
A "normal" day
Very few weeks in a Rønningen school year are the same, but when teachers refer to a "normal" day it might be something like this: 
08.00 Breakfast
09.00 Morning gathering
09.30 Linje (Either Norwegian course or your Linje)
12.00 Lunch
13.00 Common classes (topics of importance in todays society)
15.00 Bydel discussion classes 
16.00 Dinner
16.30 Kitchen duty (a few weeks a year)
17.00 Electives/spare time activities
20.00 Evening meal
21.00 Sports tournaments, movie night, game night etc.

It is compulsory to attend all classes until 16.00. The elevkveld on Friday nights is also compulsory (usually 21.00-23.00) and there is teaching on Saturdays from 10.00-14.00.
Apart from this, there will be many weeks where the time table differs from the standard, and you will need to attend the morning gatherings on Mondays to pick up on what is on the following week.
The Nordmarka trip
A week after school start, there will be a hiking trip in Nordmarka - the forest which is right at our doorstep. We will sleep in tents or cabins, have bonfires, nice food and we will really get to know one another. This is a long standing tradition at the school, and it has always been a success. The students will need to bring a large backpack, sleeping bag, sleeping pad, suitable shoes and warm and waterproof clothing.


Dormitories
All students stay in the boarding houses around the campus in single, double or triple rooms. The single rooms are reserved for those with documented special needs and costs an additional NOK 7 000 - 10 000. Most have on suite bathrooms, but a few students will share facilities with others living in the same corridor. 
The school fee
The school fee for the 19/20 school year is NOK 116 700.
This breaks down into the following:
Boarding and teaching: NOK 113 900
The registration fee: NOK 2800 (not refundable under any circumstances)
The class trip in Norway: NOK 6500 (not mandatory) 

This amount guarantees for accommodation in a double/triple room, 3-4 meals a day, bus card for traveling in Oslo during term time, certain excursions/school tours, text books, other costs regarding the international class. For those who wish to, it is possible to join the international trips on the respective linje. This will result in an extra payment of NOK 12 000-19 000 (plus pocket money, vaxines and visa fees). It is also possible to pay an extra fee of NOK 7 000 - 12 000 to have a single room for those who need it.
Additional cost will include the trips to and from the school at the beginning and the end of the year, and the four school holidays. The students need to carry a valid insurance. A small amount of pocket money can also be nice for the students to have.
The school fee (minus the NOK 2800 registration fee) will be refunded if the visa application is denied. The same is the case if the student choses to give up their student status before the 1st of August 2019. After this, the school fee of NOK 116 700 is not refundable.
Visa
Before an international applicant can apply for a visa, they have to be accepted to the school and the entire school fee of NOK 116 700 must be pre-paid. Then the school can write a letter to guarantee for the student fincancially. This letter is attached to the visa application. If the visa application is declined, the school fee (minus the registration fee of NOK 2800) will be refunded into the applicant's account.
For Norwegian citizens
Norwegian citizens are accepted to the school by only paying the registration fee of NOK 2800. The rest of the payments are done closer to school start and then monthly through the school year. Please familiarize yourself with the payment plan on Om skolen-Priser. For students with Norwegian citizenship, there is a good chance that they may receive support from Lånekassen (lanekassen.no). The student would need to start the application process before school starts. 
The application
We do not make any specific requirements regarding previous schooling except that you should be 18-20 years old and have fluent communicative English skills. Since our campus is closed during holidays, you must have a contact person living in Norway who can host you during holiday.
By submitting an application, you confirm that you are aware of the following
All international students are required to have excellent communication skills in English
This is not only a Norwegian course, this is a folkehøgskole where all students should participate in all the courses of the school
All students live in the school's boarding houses. There are no exceptions to this for international students.
For non-Norwegian citizens, the school fee (NOK 116 700 for 2019/20) needs to be paid in advanced due to Visa requirements. If the Visa application is declined, the fee (except NOK 2800) will be returned.
All international students are required to have a contact person in Norway who can help them with administrative questions and with whom they can spend the holidays.
The students in Rønningen are mostly 18-20 years old. The school primarily accepts students between 18-22.
The school year starts on the 25th of August 2019 and ends 9th of May 2020.
In order to apply, please fill out the application form 
Please contact us for further information at post@ronningen.fhs.no